JANUARY 2021 NEWSLETTER  #002                                    JANUARY 1, 2021
Happy New Year!! I hope that you and your family also had a wonderful Christmas!   Here's to a wonderful new year and getting back to normal. Cheers!!
NEW NEWS
Here we are in January 2021!  I only have a few gigs for Brian Bachorz Live coming up this month.  I'm happy to announce that I'll be back at Valleybrook Country Club Riley's Pub on Jan. 8th.  That is always a good time with great staff and a friendly atmosphere.  I'd also like to add that they have an excellent gourmet food menu.  Their daily dinner selection is fabulous!  
If all goes well, Fuzzy Side Up may be down in the Delaware area at the  Bar XIII.  We are hopeful, that Delaware won't have to impose restrictions due to Covid-19.  This is a great rock club where a lot of big name bands have played.  We are looking forward to that happening.
---

On December 11th, we performed at Cooper's Riverview in Trenton, NJ.  What an amazing place on the river!  You should check out their website for further entertainment and dinner details. 
We also had a double header at Time Out Entertainment last month, December 18th and 19th.  On the 19th we had a very special lady come out who gave a heartfelt speech on how happy she was to be out in New Jersey seeing us play and enjoying the company of her friends.  She is from South Philly where everything is now closed.  See my post directly below and a link to the video. Also, please like our Facebook page for new pictures, updated events and video's of recent performances. Thank you for being a fan!
This pandemic is hard on everyone especially small businesses in our surrounding area. A lady from South Philly who was required to close down came to see Fuzzy Side Up play Saturday night. She was so happy to be out with friends that she requested the mic to deliver a heartfelt speech. On behalf of Fuzzy Side Up, we thank you for being a fan and wish you the best!!
The Speech Time Out December 19, 2020   See the video
If you want to friend us on Facebook here are all of are individual profile pages.  We each post our own unique things about Fuzzy Side Up.
Joe McFadden
Anthony Wolf Liberto
Billy Wayda
Jeff Wasneski
Brian Bachorz
---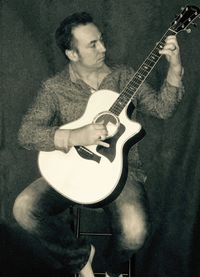 ACOUSTIC MUSIC
Brian Bachorz Live January Acoustic Gig's
January 2nd - The White Horse Winery
January 8th - Valleybrook Country Club Riley's Pub
---
Jerkin the Flat 9  Look for updates to the CD on our Facebook page listed below.    
---
The Guitar Therapist - Please check out my Facebook page with great inspirational wisdom that I've come across to melt the mind with music.  Check it out!
---
WEBSITE & SOCIAL MEDIA LINKS
Brian Bachorz Music     Brian Bachorz Live                 Jerkin the Flat 9
Fuzzy Side Up                NubNutlin Productions           Brian Bachorz YouTube

Sincerely,
Brian Bachorz - Fuzzy Side Up & Brian Bachorz Live
#brianbachorzmusic #brianbachorzlive #acousticguitarplayer